PUBLICATION DETAIL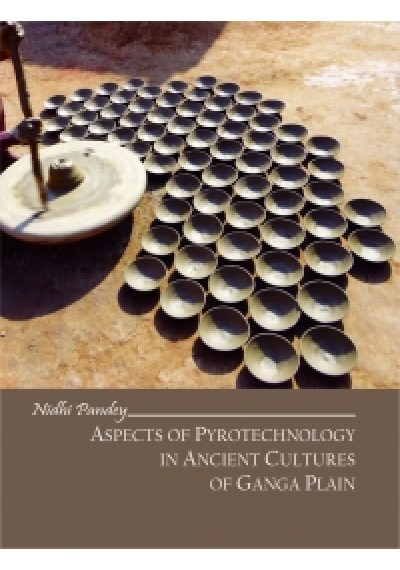 Aspects of Pyrotechnology in Ancient Cultures of Ganga Plain
Author

:

Nidhi Pandey
ISBN

:

978-93-83221-18-9
Price

:

3,200.00 2,880.00
Size

:

25 cm
Year

:

2018
Format

:

Hardbound
Description

:

xxiv+272 p., figs., 64 b/w illus., Bibliography, Index
Qty
About the Book
The Pyrotechnological developments have played a vital role in shaping the history of humankind.
The present book attempts to trace the developments in the field of fire-related technologies in ancient India. It deals at length with stages of innovative measures taken to develop technologies of ceramics — pottery, terracotta, glass as well as metals like copper and its alloys, gold, silver, zinc, tin and iron. In addition, to giving detailed treatment to archaeological material unearthed in excavations, the analytical studies of archaeomaterials, have also been incorporated. For a holistic reconstruction of technological developments that took place in the proto-historic and early historic cultures of the Ganga plain, the rich literary resources have been tapped wherever available.
In nutshell, the book is a complete account of fire-based technologies which shaped the personality of cultures of the Ganga plain. The book, thus, should be of interest to serious scholars of archaeology as well as general readers who are keen on authentic history of technology in ancient India.
About the Author
Dr Nidhi Pandey (b. 1976) is presently, working as an Associate Professor in the Department of Ancient Indian History Culture and Archaeology, Banaras Hindu University, Varanasi. She got her Bachelor degree from I.T. College, Lucknow University; Masters and Ph.D. degrees from Banaras Hindu University, Varanasi. She is also the recipient of two B.H.U. Gold medal for standing first in AIHC and Archaeology in M.A. and Prof. Anant Sadashiva Altekar medal for standing first in AIHC and Archaeology at the M.A. exam. Dr Pandey has also received Junior Research Fellowship (JRF) from UGC.
In recent years, she has devoted herself to the study of pyrotechnology, covering its archaeological, technological and ethnological aspects. Besides contributing more than two dozen research papers to various reputed publications in the field of archaeology and history of science, she is also a life member of many national and international committees/society.