PUBLICATION DETAIL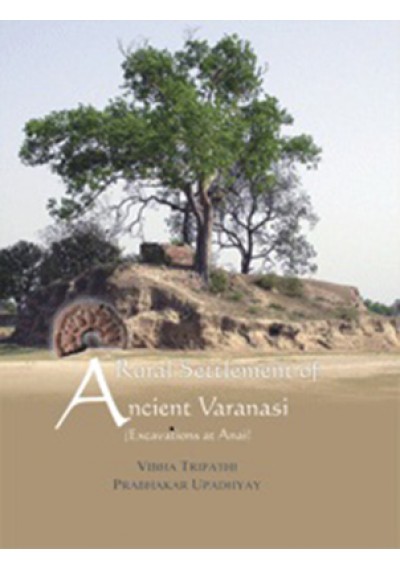 A Rural Settlement of Ancient Varanasi
(Excavations at Anai)
Author

:

Vibha Tripathi and Prabhakar Upadhyay
ISBN

:

978-81-926983-4-2
Price

:

2,700.00 2,430.00
Size

:

25 cm
Year

:

2013
Format

:

Hardbound
Description

:

xvii+ 182 p., 52 figs., tables, 41 col. & 38 b/w illus., Bibliography, Index
Qty
About the Book
Archaeological researches in India have so far focused primarily on mega-sites having imposing and impressive evidence or on city sites mentioned in early literature. But for a real comprehension of city life, study of rural culture is inevitable. Rural settlements that have rarely been paid attention to so far are likely to provide real insight into life of common man. To get a peep into rural life of ancient Varanasi, an excavation was conducted at Anai, a sleepy village near Varanasi which was the capital of Kasi Mahajanapada.
The present book, though primarily a report of excavations at Anai, attempts to discuss different aspects of cultural, social and economic life during the second and first millennium BCE. There are artifacts exhibiting specialization in various crafts and technologies. One finds traces of intra-regional and inter-regional interactions and vibrant trade networks established through thick arteries of rivers irrigating the landscape. We also come across clear traces of religious beliefs and practices prevalent at different cultural periods. The book tries to unfold divergent dimensions of culture of rural India and interface it with evolving city centres. With detailed study and analyses of material remains, this book should interest the experts in the field of Archaeology. At the same time the book also tries to reach out to the common reader who may be interested in life in ancient Varanasi.
About the Author
Prof. Vibha Tripathi is an archaeologist of international fame. She has been teaching Ancient Indian History, Culture and Archaeology in Banaras Hindu University since 1977. She is a keen and versatile scholar and her works reflect a multi-disciplinary and holistic approach to study of the past. She has specialized in History of Science and Technology, especially in Iron Age Archaeology, covering both archaeological and technological aspects of iron technology. She has delivered Presidential Addresses of Academic Societies of India such as Indian History and Culture Society, Ancient Sciences and Archaeological Society, U.P. History Congress, and recently of Indian Society for Prehistoric and Quaternary Society (December 2012). She has directed excavations at Khairadih, Anai, Agiabir, Hariharpur and coordinated excavations at Raipura. Her publications include Painted Grey Ware - An Iron Age Culture of Northern India (1976), The Indus Terracotta (1994), Archaeometallurgy in India (1998), The Age of Iron in South Asia: Legacy and Tradition (2001), History of Iron Technology in India (2008), Archaeology of Ganga Basin: Paradigm Shift (2 vols.) (2010) and Rise of Civilization in the Gangetic Plain: The Context of Painted Grey Ware (2012).
Dr. Prabhakar Upadhyay is an Assistant Professor in Banaras Hindu University. His publications include Minerals and Mining in Ancient India (2007) and Archaeology of Ganga Basin: Paradigm Shift (2010, Associate Editor). He has actively participated in the excavations at Khairadih, Anai, Agiabir and Hariharpur. Besides directing several exploratory programmes in ancient mining belts and middle Ganga plain, he has directed Excavations at Raipura (2010-11).